Ikastaria. Cuadernos de Educación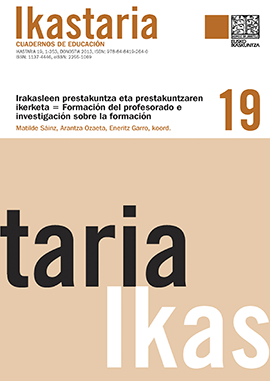 ISSN: 0213-3636
eISSN: 2255-1069
Donostia : Eusko Ikaskuntza, 1985-
The Eusko Ikaskuntza-Basque Studies Society Section Notebooks were created in 1982, as a serial publication to divulge research and fieldwork carried out by the researchers of the various Scientific Sections. These also include monographic issues that include conference minutes, research scholarships and homages. The Notebooks are directed to researchers, university students and all those who are interested in corresponding subject matter. Each series is directed by its own Board of Editors.
The first "Cuadernos de Sección. Educación" is published in 1985. The first 8 issues appeared with this title (1985-1995). As from issue n. 9 (1997) its denomination is changed to Ikastaria. Cuadernos de Educación.
As from 2010, the Ikastaria. Cuadernos de Educación, is published in a digital format and items can be read and downloaded free.

Regulations for the presentation of originals
Director:
Ines GARCIA-AZKOAGA. Univ. del País Vascos / Euskal Herriko Unib. Vitoria-Gasteiz
Editorial Board:
Andoni BARREÑA AGIRREGABIRIA. Univ. de Salamanca. Salamanca
Javier GRANJA. Eusko Jaurlaritza. Gasteiz
Itziar IDIAZABAL GORROTXATEGI. Univ. del País Vascos / Euskal Herriko Unib. Vitoria-Gasteiz
Ibon MATEROLA.Univ. del País Vascos / Euskal Herriko Unib. Vitoria-Gasteiz
Luis Mª ZULAIKA. Univ. del País Vascos / Euskal Herriko Unib. Vitoria-Gasteiz
Scientific Comittee:
Sandrine AEBY. Univ. de Genève. Genève
Margareta ALMGREM. UNESCO ETXEA. Bilbo
Jean P. BRONCKART. Univ. de Genève. Genève
M. Karmele BUJAN. Univ. del País Vascos / Euskal Herriko Unib. Donostia
Suzanne CHARTRAND. Univ. Laval. Québec (Canada)
Antonia COUTINHO. Univ. Nova de Lisboa. Lisboa
Paulí DÁVILA. Univ. del País Vascos / Euskal Herriko Unib. Donostia
María del Carmen DE LAS CUEVAS. Univ. del País Vascos / Euskal Herriko Unib. Donostia
Miguel A. DELGADO. Univ. de Granada. Granada
Joaquim DOLZ. Univ. de Genève. Genève
Itziar ELORZA. Ikastolen Elkartea. Donostia
Xabier ETXANIZ. Univ. del País Vascos / Euskal Herriko Unib. Vitoria-Gasteiz
Xabier GARABORRI. Gipuzkoako Ikastolen Elkartea. Donostia
Enrique GARCÍA. MaGill Univ. Montreal (Canada)
Iñaki GARCÍA. Mondragon Unib. Eskoriatza
Eneritz GARRO. Mondragon Unib. Eskoriatza
Fernando GIMENO MARCO. Univ. de Zaragoza. Zaragoza
Xabier GRANJA IBARRETXE. Univ. of Alabama. Tuscaloosa. USA
Glais GRIMARAES. Univ. de Genève. Genève
Maider HUARTE. Begoñako Andra Mari Irakasleen Unib. Eskola. Bilbo
Alex IBÁÑEZ. Univ. del País Vascos / Euskal Herriko Unib. Donostia
Itziar LARRINAGA. Musikene. Donostia
Luis Mª LARRINGAN. Univ. del País Vascos / Euskal Herriko Unib. Vitoria-Gasteiz
Rafael LÓPEZ ATXURRA. Univ. del País Vascos / Euskal Herriko Unib. Donostia
Víctor LÓPEZ PASTOR. Univ. de Valladolid. Segovia
Ana M. MACAZAGA. Univ. del País Vascos / Euskal Herriko Unib. Bilbo
Ane ORTEGA. Begoñako Andra Mari Irakasleen Unib. Eskola. Bilbo
Arantza OZAETA. Mondragon Unib. Eskoriatza
Elixabete PÉREZ GAZTELU. Deustuko Unib. Bilbo
Paulina RIBERA. Univ. de Valencia. Valencia
Dora RIESTRA. Univ. de Bariloche. Argentina
M. Uribarri RUIZ BIKANDI. Univ. del País Vascos / Euskal Herriko Unib. Bilbo
Matilde SAINZ. Mondragon Unib. Eskoriatza
José D. VILLAROEL VILLAMOR. Univ. del País Vascos / Euskal Herriko Unib. Vitoria-Gasteiz
List of collection's publications