Eleria, Euskal Herriko Legelarien Aldizkaria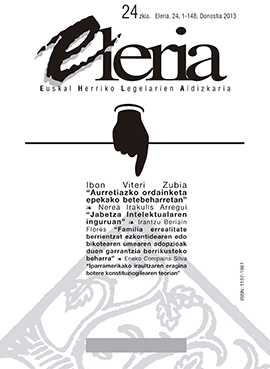 This is that Journal of Basque Jurists, directed by Josu Iñaki Erkoreka, founded with issue n?. 0 in 1996, and it is intended to cover in Basque all matters of law.
The objectives of this publication are the promotion of law produced in Basque and being useful for the normalisation of the juridical Basque language, both in the university and in the level of juridical practice.

Regulations for the presentation of originals

Iñaki Agirreazkuenaga Zigorraga. Univ. del País Vasco. Donostia
Xabier Arzalluz Antia. Univ. de Deusto. Ex?presidente del Euzkadi Buru Batzar del
PNV. Bilbao
Maider Hennebutte-Maniort. Abogada. Biarritz
Jose Luis Lizundia Askondo. Académico de número de Euskaltzaindia. Bilbao
Abel Muniategi Elorza. Univ. de Deusto. Bilbo
Mertxe Olaizola Maiz. Socia del Servicio Oficial de Traductores del IVAP. Vitoria-
Gasteiz
Jon Ander Perez-Ilzarbe Saragüeta. Jefe de la Sección de Régimen Jurídico de
Urbanismo y Vivienda. Pamplona
Kepa Sanpedro Layuno. Socio de la Comisión de Euskera del Colegio de Abogados
de Bizkaia. Bilbao
Ander Urrutia Badiola. Univ. de Deusto. Presidente de Euskaltzaindia. Bilbao
Patxi Zabaleta Zabaleta. Académico de número de Euskaltzaindia. Pamplona
Director:

Nekane Sanmigel Bergaretxe. Audiencia Provincial de Bizkaia. Bilbao

Honour Committee:
Board of Editors:

Itziar Alkorta Idiakez. Univ. del País Vasco. Donostia
Igone Altzelai Uliondo. Facultad de Derecho. Derecho de la Empresa. Univ. del País Vasco. Donostia
Joxerramon Bengoetxea Caballero. Univ. del País Vasco. Donostia
Garbiñe Biurrun. Tribunal Superior de Justicia del País Vasco. Bilbao
Cesar Gallastegi Aranzabal. Facultad de Derecho. Univ. de Deusto. Bilbao
Jon Etxabe Jauregi.Presidente de la Comisión de Euskera del Colegio de Abogados de Gipuzkoa. Donostia
Roldán Jimeno. Dpto. de Derecho Público. Area de Historia del Derecho. Univ. Pública de Navarra. Pamplona
Silbia Sarasola. ETEO. Univ. Mondragon. Oñati

Secretariat:

Ixusko Ordeñana Gezuraga. Univ. del País Vasco. Facultad de CC. Económicas y Empresariales. Bilbao

Publications Secretariat:

Eva Nieto. Eusko Ikaskuntza. Donostia
List of collection's publications