Eusko Ikaskuntza - Laboral Kutxa Prize of Humanities, Culture, Arts and Social Sciences
Information
The Eusko Ikaskuntza-Laboral Kutxa Prize was established in 1995 in order to honour those active personalities with the most outstanding careers in the areas of Humanities, Culture, Arts, and Social Science, taken in their broadest sense. The awarded must have effectively contributed with their overall work to the cultural development of the Basque Country.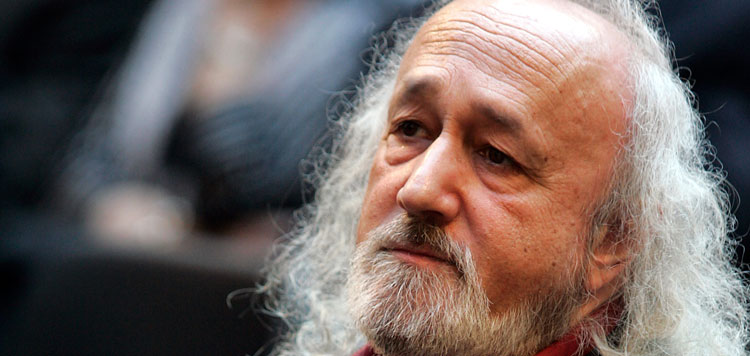 EUSKO IKASKUNTZA-LABORAL KUTXAREN SARIA 2017: Montxo Armendáriz
Montxo Armendáriz ha obtenido el Premio Eusko Ikaskuntza - Laboral Kutxa 2017 al currículo más destacado de Euskal Herria en las áreas de Humanidades, Cultura, Artes y Ciencias Sociales. Reunido el 1 de junio, el Jurado evaluador, compuesto por representantes de los Rectores/as de las siete universidades del ámbito geográfico de actuación de Eusko Ikaskuntza, el Presidente de la misma y el Director territorial de Laboral Kutxa ha destacado su condición como "Doctor Honoris Causa por la Universidad Pública de Navarra en 2010", "Es uno de los directores de cine imprescindibles de los últimos 30 años. Su obra retrata de forma inconfundible a toda una generación a través de historias cotidianas que han trascendido lo local y han logrado llegar al gran público". Su obra refleja aspectos visuales, culturales, etnográficos, etc., de Euskal Herria.
Ha sido reconocido con un buen número de premios y galardones llegados desde diferentes entidades públicas y desde el sector cinematográfico: Premio Príncipe de Viana (1998), Premio Nacional de Cinematografía (1998), Premio Manuel Lekuona (2008) y Premio San Francisco Javier (2015). Fue seleccionado para los Óscar, recibiendo la Concha de Oro de Donostia-Sebastián, así como ha recibido varios premios Goya.
Eusko Ikaskuntza - Laboral Kutxa Prize of Humanities, Culture, Arts and Social Sciences